LIKE Silk Music:
http://www.facebook.com/SilkMusic
Samples & Purchase:
Beatport:
http://bit.ly/SilkRoyal
iTunes:
http://bit.ly/SILKAC01-iTunes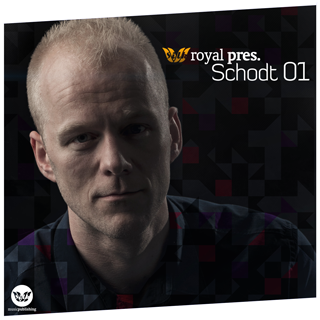 Having just celebrated our 5-year anniversary, Silk Music is excited to launch a new compilation series, in which we honor several esteemed artists whose sound has come to define our label. The inaugural release celebrates the work of Danish veteran Schodt, who has achieved tremendous success over the last five years in various genres of electronic music. Specifically, his top-charting Beatport tracks in progressive house, trance, breaks, and even chillout have been supported by the likes of Above and Beyond, Paul Oakenfold, Markus Schulz, and numerous other elite international DJ's. From the provocative progressive anthem "White Tiger" to the Balearic chillout gem Mr Morrison, "Schodt 01" showcases over a dozen favorites by one of electronic music's most versatile and gifted composers.
Info:
Cat#: SILKAC01
Beatport release date: March 4th, 2013
iTunes release date: March 18th, 2013
Genre: progressive trance, chillout, progressive house, trance
Format: digital
Stores: Beatport, iTunes, JunoDownload
Tracklist:
01 Schodt - You And Me (Original Mix)
02 Schodt - Heatwave (Original Mix)
03 Schodt feat. Aida Fenhel - White Tiger (Vocal Mix)
04 Schodt & Sundriver feat. Aida Fenhel - Here With Me (Schodt Vocal Mix)
05 Pconvolve - Cosmology (Schodt Remix)
06 Schodt feat. Aida Fenhel - Wild At Heart (Original Vocal Mix)
07 Jacob Henry - Hopeful Romantic (Schodt Remix)
08 Shiftone - Thai Spa (Schodt Remix)
09 Dezza - Xafilah (Schodt's 'Lockout' Remix)
010 Schodt - White Rabbit (Original Mix)
011 Schodt - Gianni (Original Mix)
012 Schodt - Mr Morrison (Original Mix)
013 Schodt - Moviola (Original Mix)
More Info About Schodt:
http://www.facebook.com/schodtmusic
For More Information:
Silk Music @ Facebook
Silk Music @ SoundCloud
Silk Music @ Twitter
Silk Music @ YouTube